The top 20 festivals around the world in 2023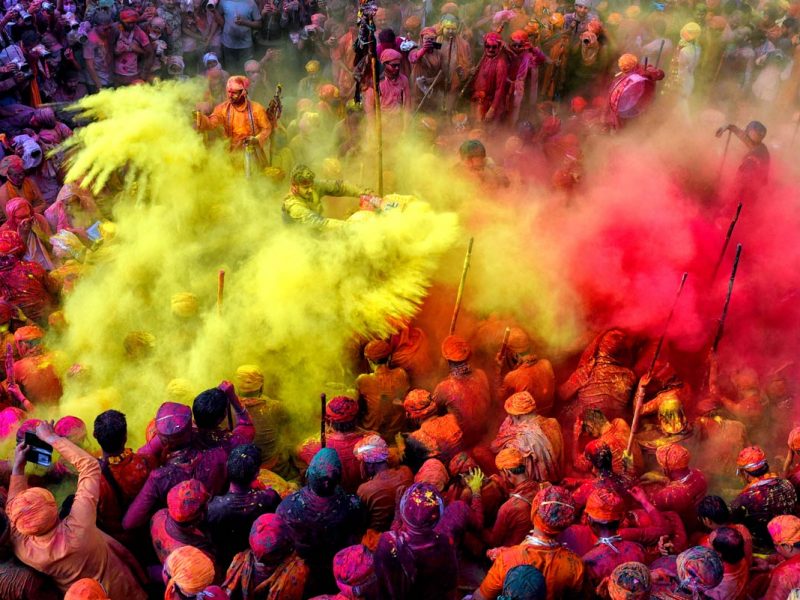 We reveal the top 20 festivals around the world that every traveler puts on their to-do list.
Every country seems to have a major event on their yearly calendar that trumps all others. However, there are about 200 countries in the world, and it is almost impossible for most people to experience them all, no matter how much they want to travel. I've narrowed my options down to the absolute top 20 events to add to my bucket list.
Book Bucket List Group Travel tours on below dates and we will include these festivals in your itinerary.
1. Gion Matsuri – Kyoto, Japan – July 15 to July 22, 2023
Widely known as Japan's summer festival, the Gion Festival has a history of over 1,000 years. It all started to appease the gods who wreaked havoc with fires, floods and earthquakes, but these days it's a little more light-hearted and certainly attracts huge tourists. Yamahoko procession is characterized by floats that look like works of art. Expect to be awed by his three festive evenings leading up to the procession known as "Yoiyama" (Evening of Celebration) as well. .
2. Gay and Lesbian Mardi Gras – Sydney, Australia – 17 feb to 5 march 2023
A true celebration of love in all its forms, the Sydney Gay and Lesbian Mardi Gras has showered Sydney with a bright rainbow every March since 1978. Considered one of the city's major events, the parade and the parties and events surrounding it draw large numbers of visitors from all over the world. A highlight of the celebration is the parade down Oxford Street, a spectacular display of meat and feathers. And while you may get more cheeks than you'd like to see, it's all done with lighthearted, inclusive, and humorous fun.
3. Songkran – Thailand – 13 April  to 15 April 2023
Songkran in Thailand is a national level water battle and celebration of the Buddhist New Year. Originally, water played a role by pouring it over Buddha statues on this auspicious day, but now drinking water is not only for the sake of the gods, but also for purifying all those who do not seek refuge. Although a spiritual and religious festival where everyone visits local monasteries, Songkran has evolved into a joyous occasion for celebrations throughout the kingdom. From Bangkok to Chiang Mai to Ayutthaya to Krabi to Koh Samui, anywhere in Thailand, from water guns to elephant trunks, expect to get completely wet when used for this purpose.
4. Saint Patrick's Festival – Dublin, Ireland – 17 March 2023
Sure, St. Patrick's Day is celebrated everywhere in the world, and there's an Irish diaspora (or even just an Irish pub), but if you want to get involved, there's no better place than Dublin. The festival lasts five days and five nights in his March and is packed with a program of music, performing arts, literature, guided tours and gastronomic events. With National Day at its center, Ireland's celebration of pride, achievement and talent is well-filled with Guinness and Irish cheers.
5. Montreux Jazz Festival – Montreux, Switzerland – 30 June to 15 July 2023
There are many music festivals in Europe, but this 50th anniversary celebration on the shores of Lake Geneva is truly unique, being the second largest jazz festival in the world (after Montreal, Canada). But it's not just jazz. At the Montreux Jazz Festival, you'll find acts ranging from pop to rock to blues. Best of all, the majority of the performances are free, in keeping with the festival's charter of making music accessible to everyone.
6. Mevlana Festival – Konya, Turkey – 10 December to 17 December 2023
The Anatolian saint and Islamic scholar Mevlana Seraleddin Rumi died in 1273 in the Turkish city of Konya. Since then, his followers, the Mervlevy cult (better known as Waring His Dervish), have celebrated his dance teachings on tolerance and religious ecstasy at festivals. During his ten days in December, his Sema dance is performed in traditional costume as a tribute to Rumi's spirit. The hypnotic dance is incredible to watch and the energy is palpable.The festival is a completely uplifting experience regardless of religion. The Andalusian city of Seville hosts one of the most spectacular and extravagant Easter celebrations.
7. Semana Santa – Seville, Spain – 2 April to 8 April 2023
Semana Santa (Holy Week). During the festival, intricately carved Baroque religious statues parade through the streets, along with the grand procession of the Easter Brotherhood in traditional attire, along with many emotions (pointy, slightly ominous). hooded). The atmosphere is mostly fairly subdued, but there are also moments of lightness and plenty of feasting. If you're looking for a raucous romp, this probably isn't the festival for you, but from an artistic and cultural standpoint, it's fascinating and hard to beat.
8. Nozawa Onsen Fire Festival – Nozawa Onsen, Japan – 15 January 2023
If you are planning a ski trip to Japan, we recommend attending the Nozawa Onsen Dosojin Festival to coincide with the Nozawa Onsen Dosojin Festival. In winter, the beautiful Japanese town of Nozawa is half-covered in powder snow, making it an ideal place not only for skiing, but also for lighting high firewood and watching the fierce battles of the villagers.The festival takes place on the same day each year. We last about 4 hours. It is of cultural importance to the locals as the wooden shrine is adorned with the Dosojin (the god who rules roads and borders) before the fire is lit. After that, a mock battle for good luck for the coming year begins. However, only men of a certain age between 25 and 42 can participate, so they won't get into fights.
9. Cannes Film Festival – Cannes, France – 16 May t0 27 May 2023
Whether you love the wonderfully charismatic charm of the film industry and its celebrities, or are fascinated by the creativity and storytelling of filmmaking, you should visit the Cannes Film Festival at least once. Perhaps the most important film festival in the world, Cannes aims to discover and showcase new talent. Of course, a procession of polished gold stars also adds a certain prestige. The first festival took place in his 1946 and exudes an authoritarian atmosphere similar to that of the French Riviera setting. Get used to soaking up some great cinematic work, and maybe catch up with some A-listers while you're at it.
10. Edinburgh Festival Fringe – Edinburgh, Scotland – 4 August to 28 August 2023
One of Europe's most exciting and diverse festivals, the Edinburgh Festival Fringe takes place every August for his three weeks in the Scottish capital. With a roster of literally thousands of performances, from cabaret to comedy, opera to spoken word, taking place in every corner of the city, there's plenty of opportunity to soak up the festival's colorful and sometimes silly atmosphere. Fringe is run by the Edinburgh Fringe Festival Society, a registered charity dedicated to supporting and promoting Scottish arts.
11. Carnival — Rio de Janeiro, Brazil — 17 February to 25 February 2023
From feathery costumes, and elaborate parade floats to a non-stop extravaganza of drums, dance and debauchery, few things say festivity like 'Carnival'! Although it's celebrated right across Brazil and other Catholic countries, Rio de Janeiro has long been regarded as the place to experience Carnival, drawing millions of event-goers every year.
12. Burning Man — Black Rock City, USA — 27 August to 04 September 2023
There is nothing more gruesome, baton-wielding, and breathtakingly spectacular than Burning Man, the City of Arts. Over the course of a week, 60,000 "attendees" express themselves and rely on each other in this experiential community in Black Rock Desert, Nevada, through performances, art installations, otherworldly costumes, and from strangers. We will challenge while incorporating annual themes such as handmade gifts from.
Colorful rainbows and Hindu traditions tie this celebration of love, spring fun and the triumph of good over evil. Holi festivals are mainly held in India and Nepal, but also in other areas with large Hindu populations. The next day starts with a night bonfire where people gather, sing and dance, the next day throws colored powder, blows water guns and colored balloons filled with water, friends and enemies, rich and poor, unite and Sincerely for children and big children.
14. Oktoberfest – Munich, Germany — 16 September to 3 October 2023
Millions of liters of Oktoberfest beer are just the beginning of this 15-day Bavarian amusement park that conquers Munich each year. The event, which began in 1810 to celebrate the royal wedding, is still held at its original location called Theresienwiese. Abundant Lowenbrau He not only pints, but also rides, market stalls, games, pretzels, dumplings, Kasnodern to sausages and roasts of all kinds to try a wealth of traditional foods.
Mardi Gras, French for "Fat Tuesday," is a two-week period of unbridled frivolity that ends the day before Ash Wednesday, the beginning of Lent when abstinence has traditionally ruled. So before self-control begins, New Orleans becomes a hub of masquerade balls, glittery pearls, and excess booze, with thumping parades through the city.
16. Il Palio – Siena, Italy — 2 July 2023
Twice a year, the Tuscan city of Siena commemorates its medieval history with a naked horse race in the local old square. Each of his 17 horses (and their jockeys) that races represents him in one of the city's contraband (or districts) and raises the cheers of the crowd. Even more interesting, the jockey is allowed to do anything to his opponent except pull the reins. So expect as many treats as thrills.
17. Dia De Los Muertos — Mexico — 2 November 2023
Translated as "Day of the Dead," this seemingly morbid festival is a day to celebrate and commemorate the deceased with parades, costumes, paper decorations and edible skulls. Many people visit cemeteries at this time of year as it is believed that the spirits of the dead visit his family on October 31st and leave on November 2nd. Cemeteries often have music and dances to honor the spirits.
18. Snow & Ice Festival — Harbin, China — 4 February to 11 February 2023
Harbin has turned into a winter wonderland, with earthquake ice sculptures lit up with lights and lasers all over the city, attracting thousands of artists and art lovers. And if that's not enough to tickle your imagination, you can also enjoy the Ice Lantern Art Fair, dog sledding, and our favorite, the Watch Winter Swim.
19. La Tomatina — Buñol, Spain — 30 August 2023
Tomato fans can get their money's worth watching over 100,000 kg of tomatoes being tossed, crushed and splattered onto the town square on the last Wednesday in August. It is the culmination of his week-long festivities in honor of Bunol's patron saint, and the town turns red like a scene from a horror movie. I don't envy anyone who has to clean up this mess!
20. Glastonbury Festival —Pilton, England — 21 June to 25 June 2023
The mother of all music festivals, Glastonbury has been held for over 40 years and is now one of the largest music festivals in the world with around 150,000 attendees. In addition to the latest and greatest performances in pop and rock music, event-goers can also enjoy dance, comedy, theater and circus performances. And like all good music festivals, expect rubber boots, loud music, and tons of mud.
 Book with us on festival dates and we will include these experiences in your itinerary.